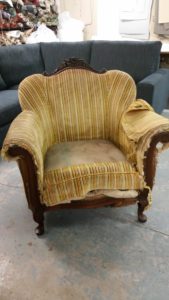 If you love your furniture, or it has sentimental value, if you just want to update it or re-model it, Sofa 21 can provide you with a service that can offer all of this.
We recover or undertake a full upholstery service including securing all joints and re-springing or simply replacing foam in cushions or chair seats.
What we re-upholster?
Sofas & armchairs. Dining, office and occasional chairs, Footstools and Headboards. Antique Furniture.
Anything covered in fabric or leather!
Sofa 21 have a vast selection of fabrics to choose from and can change the seat or cushion filling so that it will look as good as new.